Throwback to last week's (two weeks?) Halloween where Jeremy and his colleagues dressed up as transit systems. (Last year's Mario Kart was much better.) Jeremy went as the LA Expo line, can you tell? Only at UCS. I felt super lame on Halloween because I failed to procure a costume for Edda and just sent her to school in a regular outfit. It didn't even occur to me to think of a costume. (<- this is a classic indicator of my not-able-to-have-funness.) Also, we sent Vince out to buy the Halloween candy for the annual 4 trick-or-treaters in order for the house to have some excuse to have some sugar, but he bought only non-chocolate candy. Both Jeremy and I were like – OMG we have 4 pounds of candy and none of it is chocolate. So no costumes and no good candy at the house.
Vince had a chance to be on local TV to do a spot on Scouting for Food. He did miss school for this, but I was like – I don't think I can write a note saying he was sick because he was on TV.
Friday night, we went to opening night of Vince's play the Addams Family – the Musical. We had dinner at World of Beer first which was amazing because I didn't think they had happy hours on Friday, but apparently they do! So we ordered off the happy hour menu and had a very nice time.
The plays are always amazing, the kids do a good job. But it's so long! 7-9:30pm. That it a long time for short attention span people like us.
I forgot what I did on Saturday. Oh I made a chicken dinner with capers and anchovies and Jeremy made fun of me for making "fancy" food. I told him, just wait, I'm making an almond cake with saffron on Sunday. Sunday, I went out to celebrate Lauren's birthday by doing her favorite thing, Zengo classes. She wanted to do two in a row, so I showed up at 7:30 and spun around for a couple of hours and then had a mimosa and huevos rancheros for brunch. I only took profile pics of Lauren, I had a lot of fun.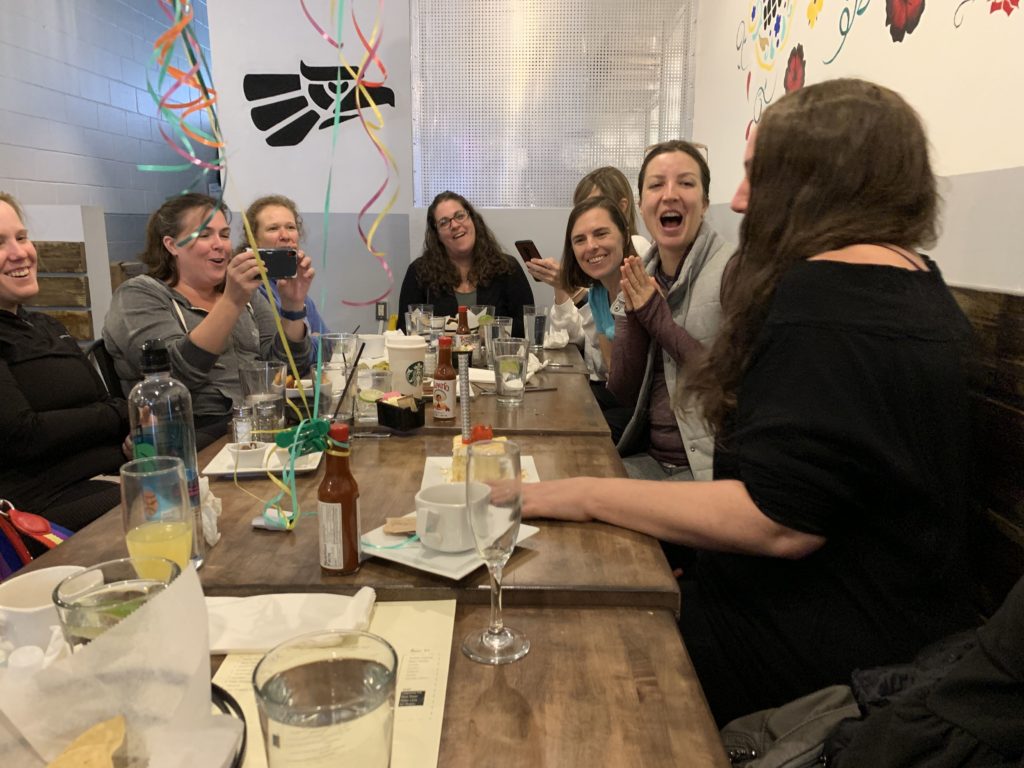 I spent the afternoon making a chocolate cake to stay out of the way (I ditched the almond/saffron cake idea). It turned out well – both the cake and the staying out of the way. Jeremy worked with Vince on college apps. A struggle in many ways that are too complicated to explain on the blog. We are upbeat, supportive and trying to tell him there are many ways to be successful. But it's stressful and tiring and hard. Here's my half frosted cake.