It is with some interest as I watch Simone Biles handle her withdrawal from the Olympics. I grew up in the Kerri Strug era of gymnastics, where her vault performance on a clearly injured leg was applauded and where, behind the scenes and unknown at the time to the viewing audience, the coaching was terrifying and humiliating and where these young girls were sexually assaulted by people they trusted. I did admire Kerri Strug at the time, as I admire Simone Biles now. Actually what I most admire about Simone is that she is back in the pit, with her teammates cheering and coaching them on and not (seemingly) wallowing in self-pity/flagellation/beratement which, I think, is what I would be doing.
We are struggling some with mid-level mental health issues here in the house. Thank goodness it's not on a world stage, it's just on our stage. I have, over the summer, developed an anxiety to various household duties that I've always done without much issue (paperwork, insurance, bills) and also some things at the nursing job which fill me with a sense of dread and inadequacy. Therefore, the days become, for me, managing my procrastination and productivity. I know I use working and productivity as a coping mechanism, it does feel good for me to work. But working too much is also a problem because I need to rest. But resting too much is also problematic in its own other way. Vince has my tendencies towards these bouts. We both were talking to each other last night and saying, well, you feel bad while you are doing the task, but somehow you know not doing the task and being in bed makes you feel worse. So there we are, just generally feeling low-level bad a lot of the time.
This is certainly not aided by some uncertainty with the pandemic. I'm not sure what is going to happen in the fall. Are the kids going back to school full time at full capacity in person? I don't mind masking for everyone. But really, are we going to go shoulder to shoulder again? I'm now approaching my 7 month mark of getting the vaccine, am I still protected? Should I go to CVS and get another shot myself? Really, am I focusing too much on the US vaccination plan because so much of the world is not vaccinated? These are the problems I ruminate on the next six month time-frame, but on the 20 year time frame, I fret about Vince and Edda and all our children. Everyone (even the richest of us all) need nurses, teachers, plumbers, road repair people, car repair people, day care providers, firefighters, grocery workers, people who will cut my hair. None of these people can work full time and live in my neighborhood because the neighborhood has become so expensive, so out of reach. I grew up in this neighborhood. My teachers lived around me in houses just like mine. What have I done? What have we done? Does everyone need to have a side hustle?
There is a mouse house in one of Jeremy's parents' car after sitting idle for two years.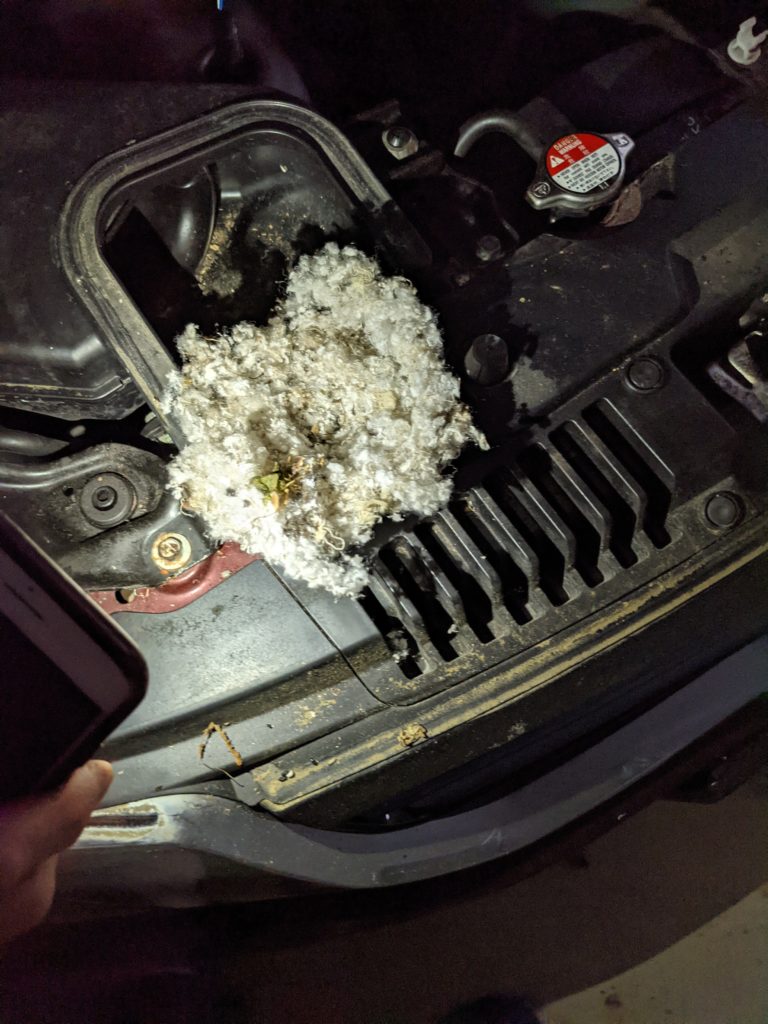 They made it to Bard. Emy made a delicious dinner.
And just FYI, according to Spotify I'm a top 1% Taylor Swift fan. Honestly, I don't think I listen to *that* much Tay Tay. Maybe I should make some effort to see her live. But I don't really like pouncing for tickets. We'll see.