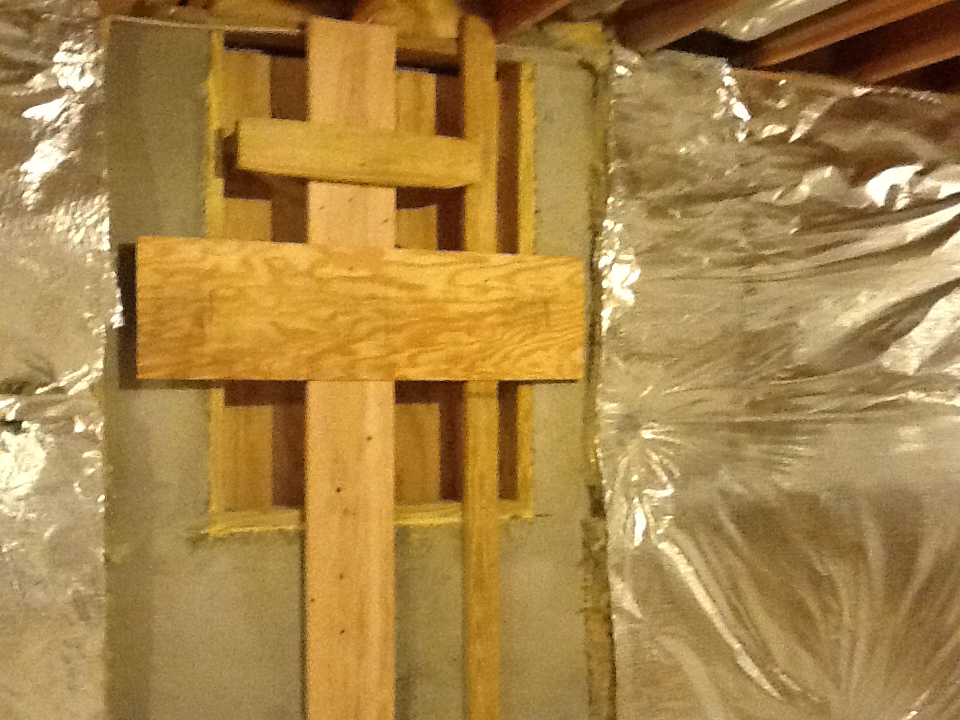 This time, Rena and I came back for our family reunion, also, doing some babysitting. Besides these two, we would like to start finishing our basement with one master bedroom plus bath, one additional common bathroom and the rest. In order to use as a bedroom, we need to have a closet (which will be put together later on) together with an egress window with < 44″ high from the floor. We are thinking to let contractor do the egress window and bathroom rough-in. And later, Rena and I can do the rest with leisure. We thought these two should be completed before we take off next Monday (8/12/13). Unfortunately, it didn't. Well, it certainly should be finished in late October or early November when we come back.
Picture one shows the boarded-up egress window frame (this frame won't fit the window). Picture two is the plan for the bath in the master bedroom. On the right is for a 40″ x 60″ tub. At the corner is for 42″ x 32″ shower cabinet with bypass door. Vanity is against the wall. And the toilet is on the left hand side of the shower. Dotted line is for the door. And picture three is the dead bolt (recently installed) entrance to the basement.
This will keep us partial occupied while staying in this house. Hopefully, it will be finished within 2 years.