F you self-hosted WordPress. I do not want to own my own website. I do not want to think about updating my WordPress to prevent malware attacks on my website.
I took Max to the vet today. She is not fat. I'm glad she isn't fat, but the vet spent five minutes explaining how she isn't fat which I thought was a little too much time explaining that – yes, everything is normal. After the vet told me she wasn't fat, he proceeded to give her some spray can cheese which Max (to my knowledge) has never had and she was completely fascinated by it. There is a little scale that has visual cues about how thin/fat your pet is that the vet gave me printed out on a nice sheet of paper. She's just like me – a little high on the normal weight scale. Always kind of wishing to lose 3-5 pounds. She does not have heartworms. I hope to not see the vet for another year.
Jeremy worked from home today, but today was bike to work day. So he biked to the Rockville Bike to Work Day celebration by the Rockville Metro. He added one more t-shirt to the pile of Bike to Work Day t-shirts we have.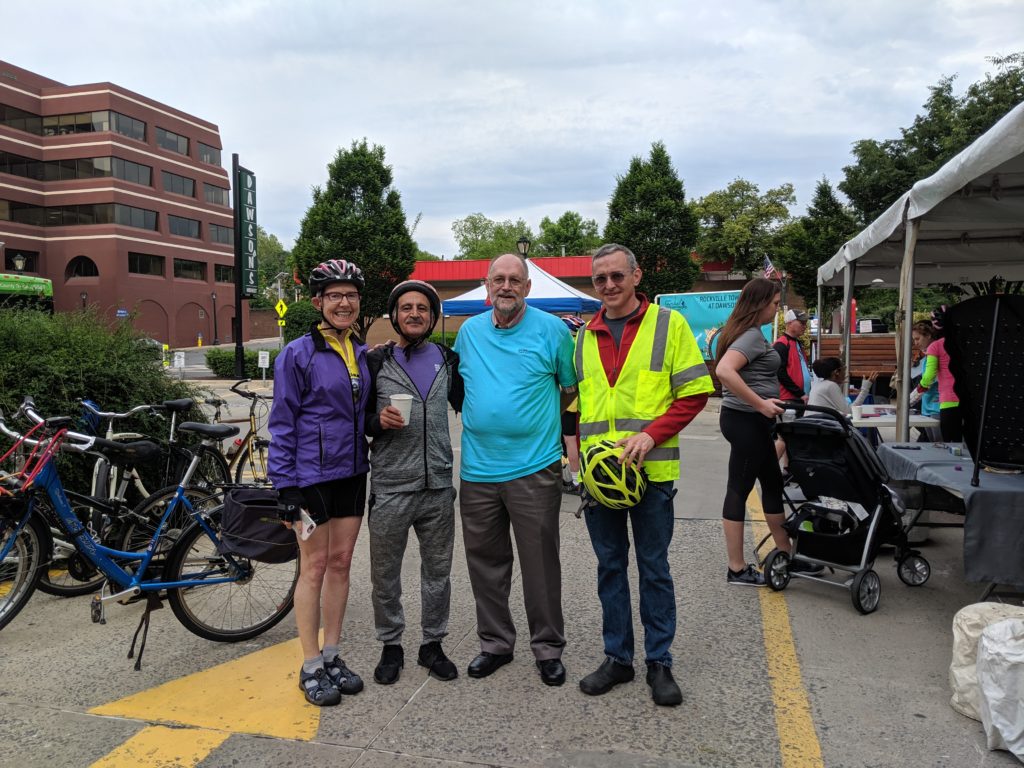 Jeremy and Vince are going backpacking this weekend (in Pennsylvania) to train for Philmont and I'm at the hospital this weekend. Which makes it extra tricky regarding Edda. Eliana is going to stay the weekend and look after Edda, I have to (after this) set up the guest bedroom before I go to bed. Because Jeremy was working from home today and we aren't going to see each other all weekend, we took a mid-day date to each at A&Js and then to Giant to buy supplies for the campout. The kids all plan and cook for themselves and then the adults usually appoint a person to plan the grown-up meal. But the last time turned out terribly because the person in charge of bringing the meals is just accustomed to eating about 50% of the calories of a normal person. So the grown ups on that trip might have ended up eating something like a rice cake with a slather of peanut butter and a slice of cheddar cheese for dinner. Everyone was unhappy (except perhaps the food bringer). Anyways, Jeremy needed to pick up some essentials to fuel his journey.