Sometimes I get blue when I think of the sameness of Edda's days. When we went to her IEP meeting a week ago, they are working on the same goals they've been working on her whole life. In some ways I'm grateful, we aren't sliding backwards, but in other ways, it's hard to hear your kid isn't making progress. (I love progress! Improvement! Edda has taught me to be more accepting of the here/now.) But it wasn't the same for Edda this week. It was homecoming week and with one enthusiastic teacher and one very enthusiastic student, Edda had a fantastic homecoming experience.
I'm not a homecoming fan. I might be an anti-fan. It's mostly that I don't know how to be a girl. I don't know about shopping, makeup or hair. But I got advice and help from Edda's cousins, Vince's girl friends & Edda's caregivers. And we made it work. Kitachi and I found the perfect outfit on Wednesday. This was everyone's favorite, including Edda who looked at it the longest and let out a yelp when we held it up for her to consider. A jumpsuit!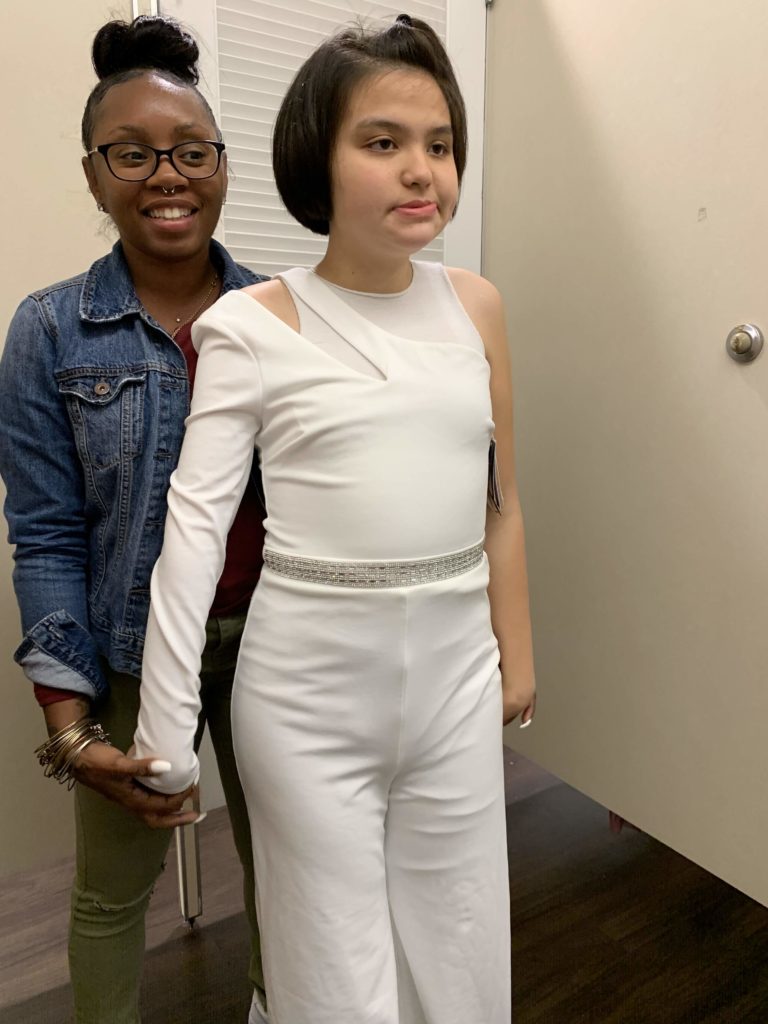 During the week, I bought some flowers for Edda's hair and on Saturday, Nat (brought her hair spray and curling iron) and Ning did Edda's hair and makeup.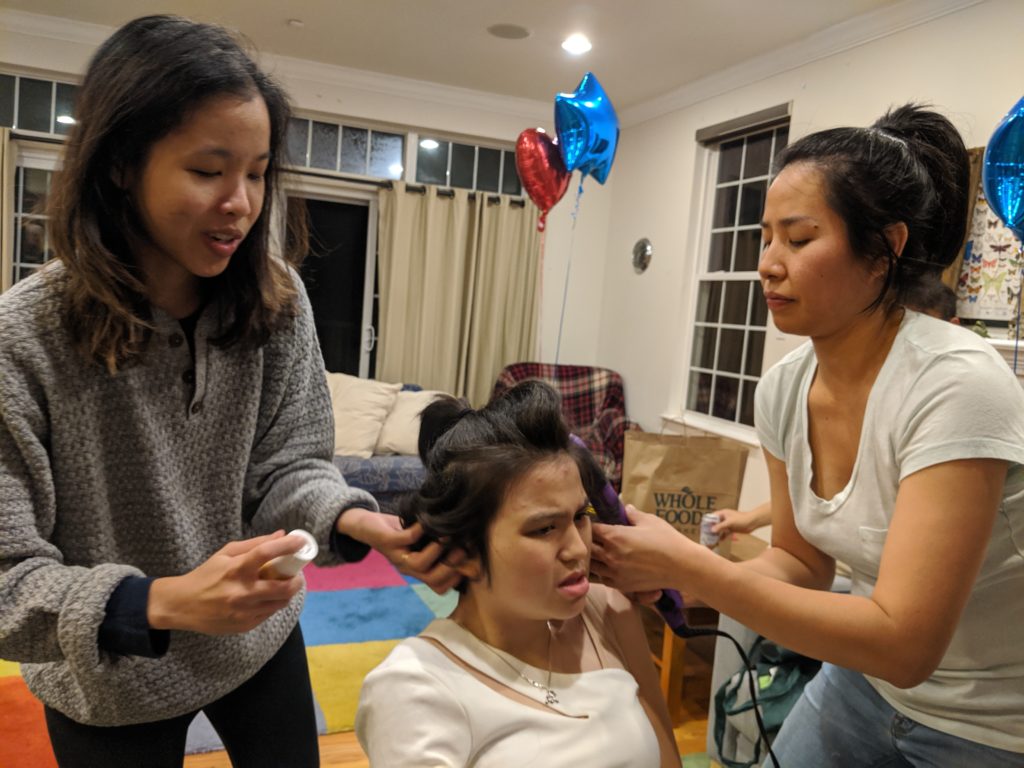 Sparkle eye shadow!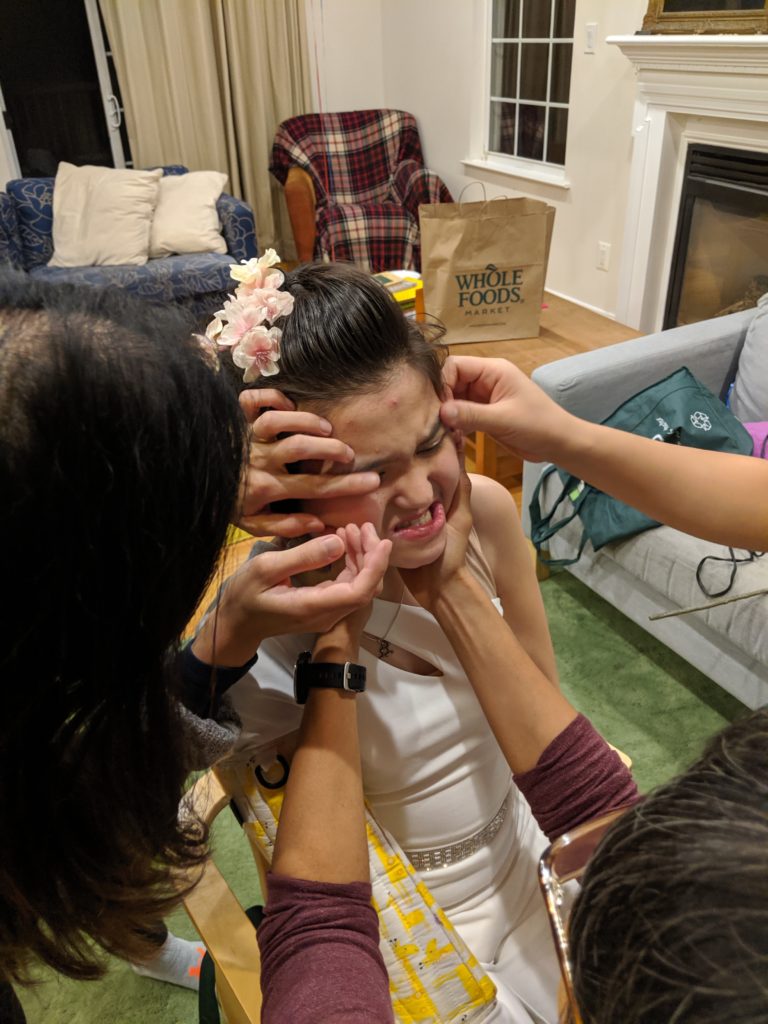 Ready to go!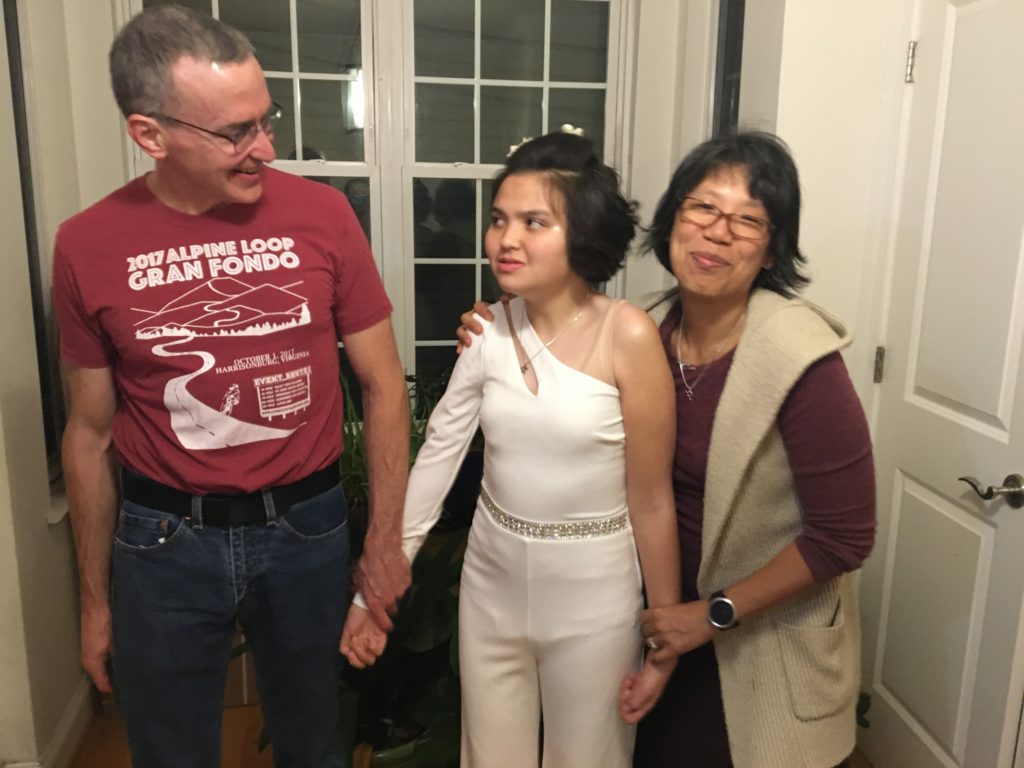 My children 🙂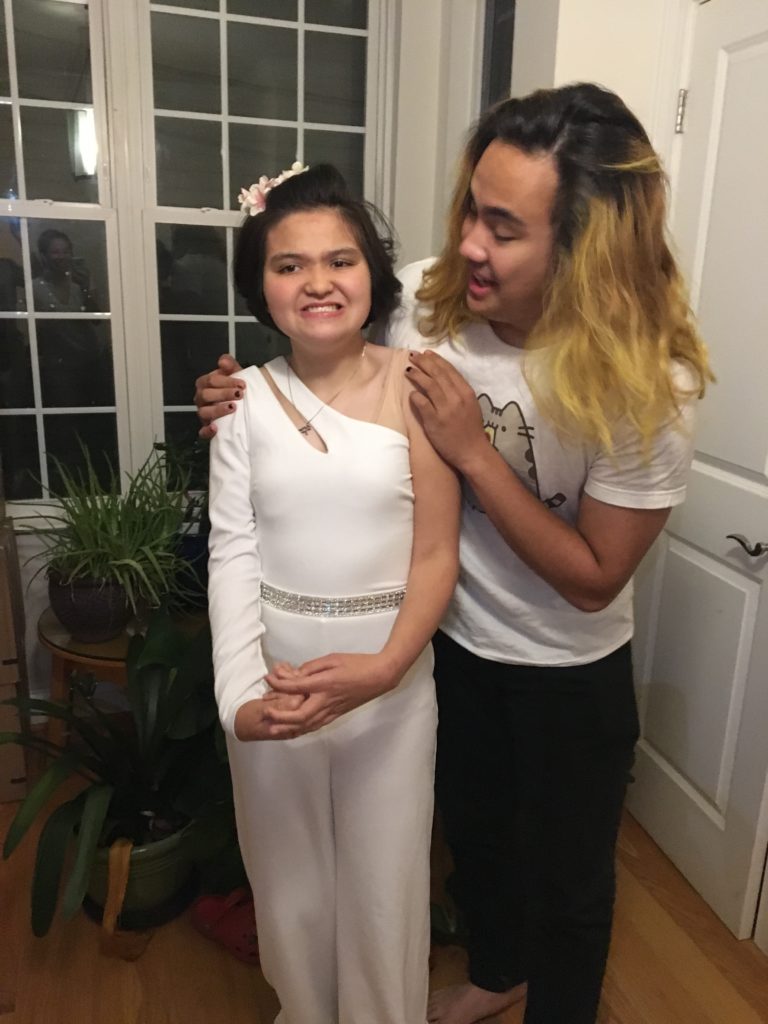 At drop off. There was only one other kid from Edda's class who was going to homecoming. He is quite the dancer and stayed the whole night. I was thinking Edda might last an hour or so. I should have gotten better shoes.
The teacher encouraged us not to go to the dance because it would be easier for the high school kids to get Edda included without parents around. This is the president of the Best Buddies club who spent part of her homecoming including Edda in the hub bub of the party.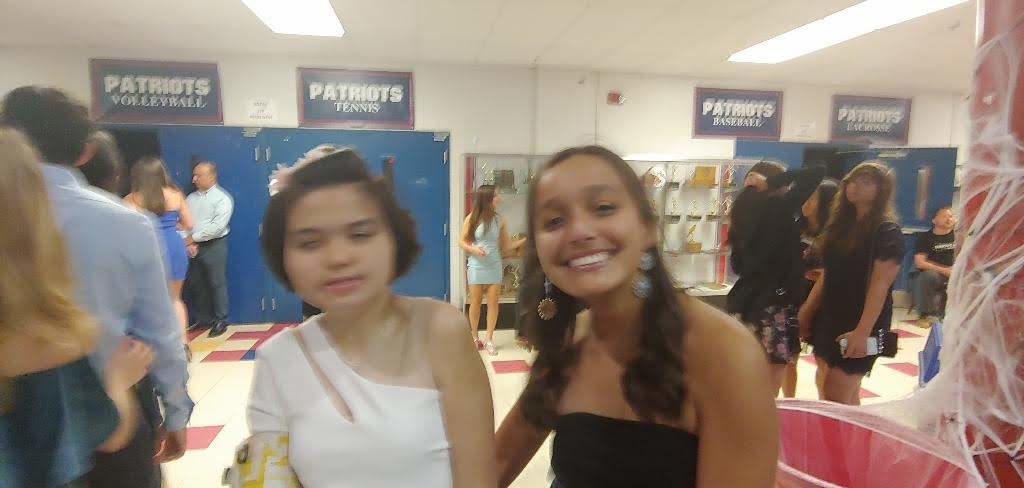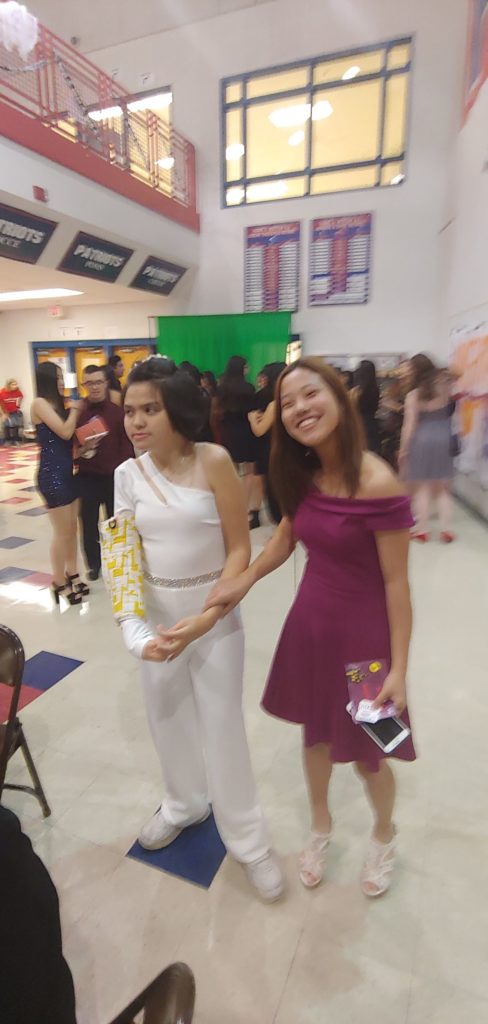 And then Edda fell asleep at homecoming. I was getting live texts from her teacher who – at 8:30 said she was still going strong, but by 8:40, she was asleep.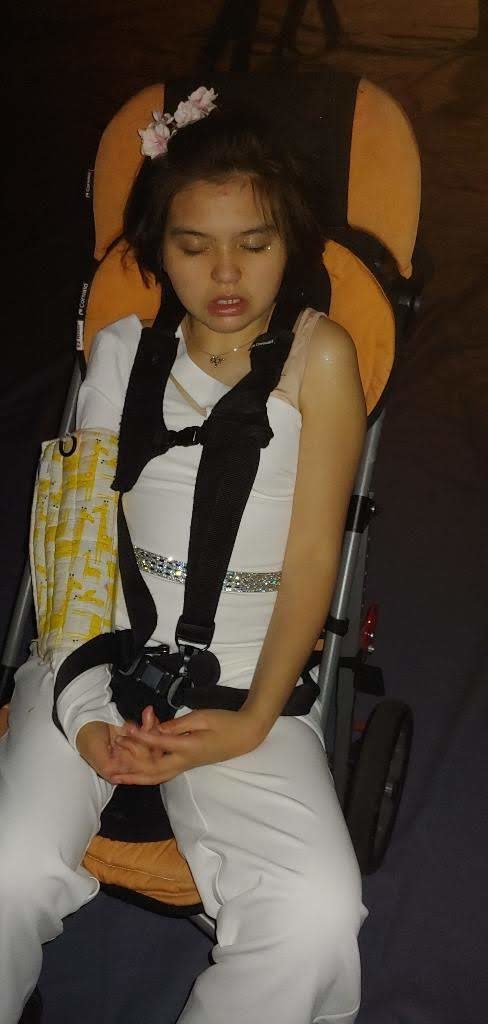 Thank you Ms. Miller for encouraging us to try something that would have never occurred to us and for helping Edda be part of the Wootton community.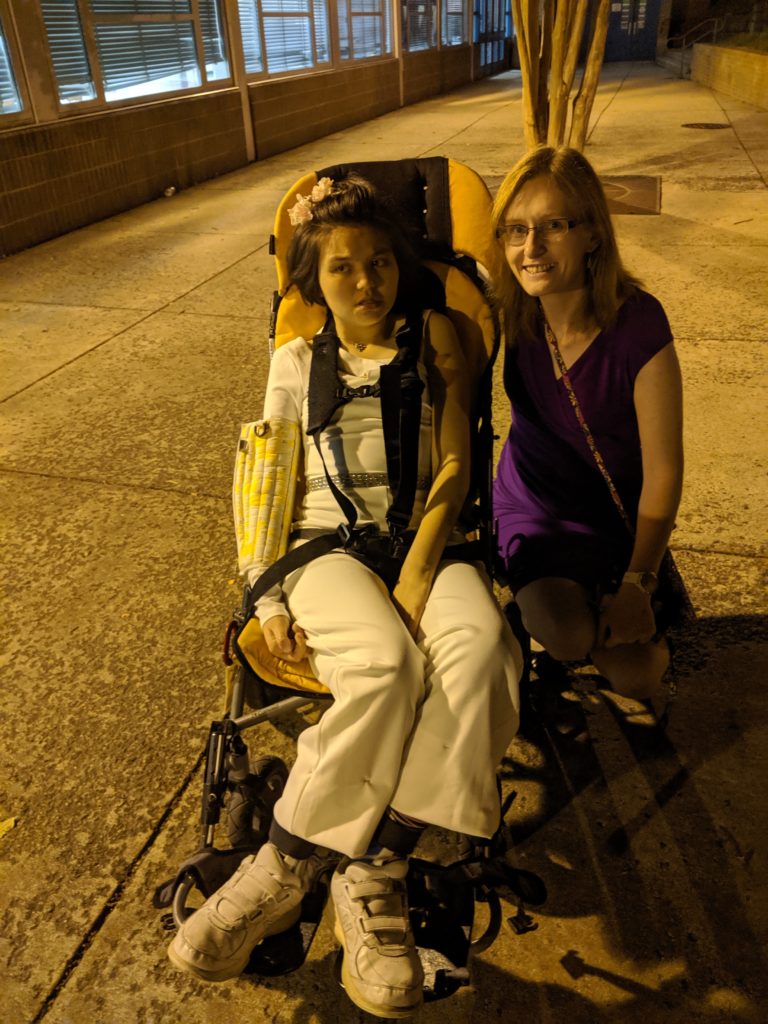 I wonder if she's going to go next year. I only wonder because I think there is no way I'm going to be able to outdo that fabulous white jumpsuit. It sets a high bar.