The days pass very quickly. And very much the same everyday. The quarantine has made me think about what I like to do. So many people I know really want a summer trip. I have no hankering for a summer trip. I don't miss concerts, movies or parties. I don't miss shopping at stores. I could do curbside pickup forevah. I do miss going out to eat. I miss just sitting down and getting a slice of pizza and saying hi to the pizzeria owner. I miss sharing a meal with friends. I miss the gym.
I need to replace all the toilets in the house. They are all sub-par and showing their age – not flushing well, weird water levels. On all of them, I've replaced the flushing mechanism many times in the decade we've been in the house. The one in our master bath has had a ghost flush for a long time. And our plumber looked at our old flushing mechanism and recommended a whole new toilet (this was months ago). I knew we were wasting a ton of water, but I had neither time nor motivation to replace it. But I did today. Home Depot has nice curbside pickup and we picked up and used Edda's stairlift to go up the stairs.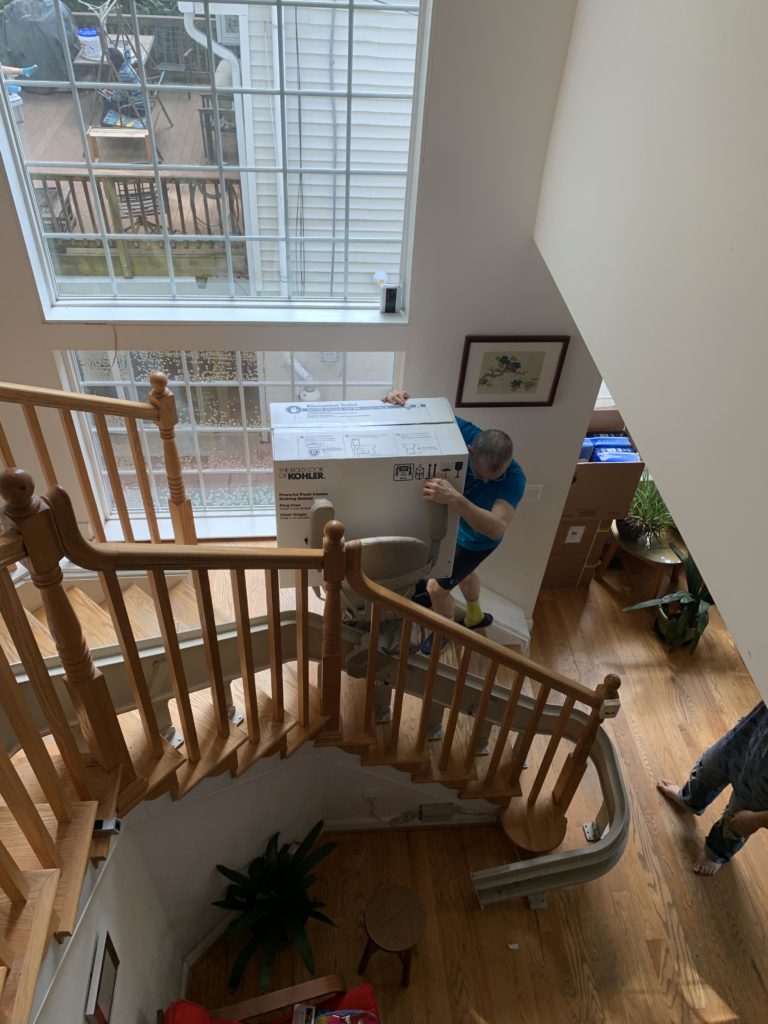 The whole replacement took me about 45 minutes. I don't know why I procrastinate on these things. But I do.
Vince really truly has nothing to do for the next four months. I secretly want him to get a job. Now exactly what kind of job, I have no idea. Do I want him to be exposed to the public? I don't know. I floated hospital cleaner, UPS worker, online English teacher. He was noncommittal. Jeremy wants him to learn Python. He said he would figure something out. It might just be 4 months of video games which I am trying to convince myself is OK. It's OK! He came up with maybe training for a long bike ride. But this week he's decided he's going to try to become vegan. So we are all eating vegan for dinner together. Jeremy stocked up on beans, oat milk, tofu, coconut milk, beyond burgers, etc. We told him he had to stay vegan until we at least finished up all these groceries.