The weekend was spent doing household chores. Jeremy went to Home Depot and Lowe's in order to buy sheetrock. We always thought a full sized piece of drywall could fit into the minivan – but it can't. Jeremy returned the pieces of sheetrock at the first place and returned home empty handed. But he returned to the second place with the idea to rent a truck or to find half sheets for sale, but the store person looked at him like he was an idiot and said – you know, you can cut the full sheets in half to fit them into the minivan (we knew this, but had dismissed the idea, because the idea of making a clean/smooth line in the parking lot of the Home Depot seemed beyond our skill set). Jeremy replied – uh, I'm not comfortable with that. I love a man who is OK with admitting his weaknesses. Anyways, the store person grabbed an L-square from the shelf and a utility knife and cut the pieces smoothly and expertly and everything fit into the van. Our goal this weekend was tear the wall down, put in the bracing and then put the wall back together – no painting, no hanging the closet hardware. But we made it only about 50% of the way there – we got some bracing in, but Jeremy's back started to ache a bit. Still not bad.
I spent Sunday taking apart our washing machine in the hopes of fixing it. I watched a bunch of videos and took it about 40% apart before I realized that in order to fix it, I'd really have to pull out the spinning drum and replace the bearings on the outer drum (which I could do if I followed the video all the way out to the bitter end), which is $400 for the part only and then I wasn't sure I'd be able to fix it. My upper budget for trying to "rescue" an appliance is about $100 to $150, so the $400 is way too much. It's a 19 year old washing machine. It's lived a good life. We bought a new washing machine for delivery on Friday. Some of the most highly rated washers/dryers are not available until October. That seems like a long time to not be washing laundry. So we bought a slightly not-as-highly rated one.
I guess the Tour de France is happening soon and Zwift has opened a bunch of virtual courses in France. Jeremy spent 90 minutes climbing up a fake hill this morning. I can't stand doing that for that long.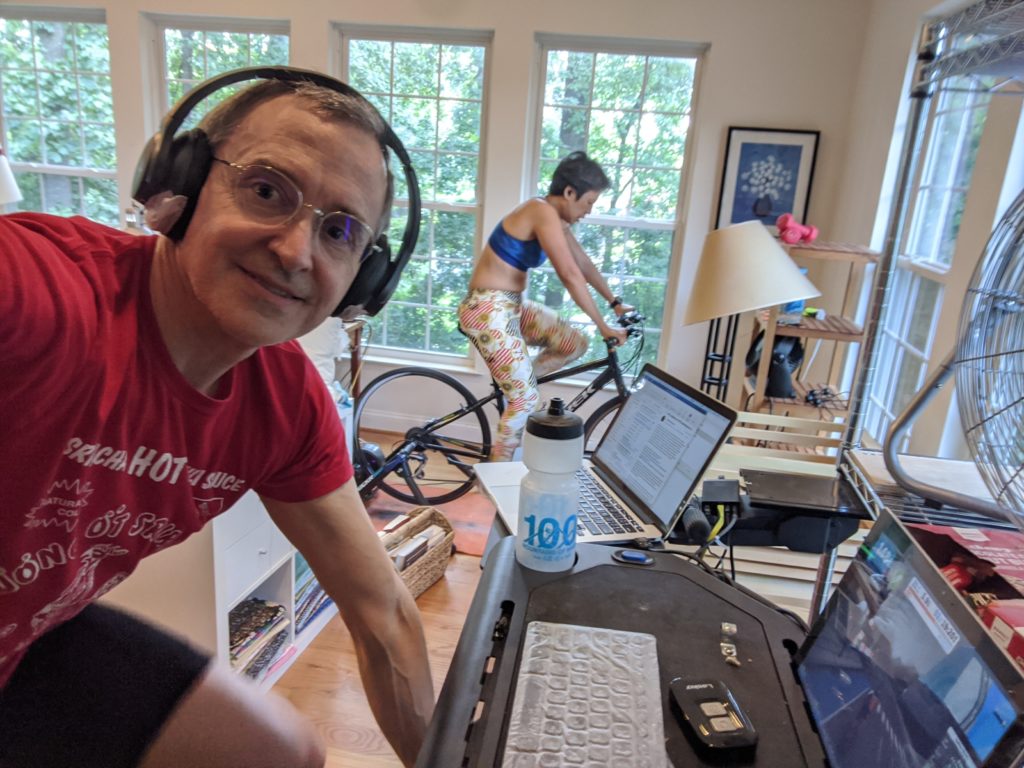 Vince is COVID antibody negative. Finally. After a couple of calls to customer service, we figured it out. So that week-long illness at the beginning of March was not COVID. It was something else that didn't become a worldwide pandemic.
We started the 3-day EEG for Edda yesterday. Someone spent an hour and a half doing:
It comes with video monitoring which we had to set up like:
And sometime during the night, Edda got her arm brace off and f*ing took off her turban and woke up like this: