One might think that now we've been home for over a week that now I've settled into what I consider to be our "normal" (well, pandemic normal) routine. But we've been really busy and my back has been hurting and there is still a lot to do even without Vince around and I feel scattered and completely unsettled. I'm COVID negative (took from Friday morning to Tuesday night to get the results) and my back pain has eased up. I have no problem doing my nursing job – it actually feels good to move (though I had an upcloseandpersonal encounter with bed bugs last shift – some may argue that that's worse than COVID ugh – those scrubs need to be burned they are sitting sealed in a bag in the garage – maybe we'll boil them?) – and I have a lot of problems doing my patent job. This sitting still and looking slightly down for a long time is the most painful (non)motion for me. We moved a ton furniture around in the house and got rid of a room full of IKEA furniture in the process (got rid of is a relative term, it's all still sitting in our garage ready for the dump). I need to paint a closet today. Many of my daily habits are out of whack, I'm hoping to get on top of it all soon. Hahahahah. Who am I kidding? Kitachi, our main caregiver, got notice that her school is reopening in about a month – so we'll have to scramble to figure out something because it's going to open ahead of MCPS. Her school is for kids with behavior problems (like constant screaming. she's told me about days like that) – so those kids need need to be back in school.
One of the casualties of my lack of daily habit stuff is the lack of blog posts. Sorry!
I'll quickly recap the way home from Davis and then we'll consider ourselves caught up.
We saw Andy and Rita in Flagstaff. Andy broke his elbow that morning falling on a wet/icy bridge. He was scheduled for arm surgery the next morning.
We saw Scott and Sheila in Taos. Lovely hotel. Edda had a massive nosebleed on their down comforter and they charged us $450 for it. If I knew we were going to pay for the whole thing and not just the cleaning fee, I'd have taken it with us and had it cleaned.
We saw the land that they are going to build their house on.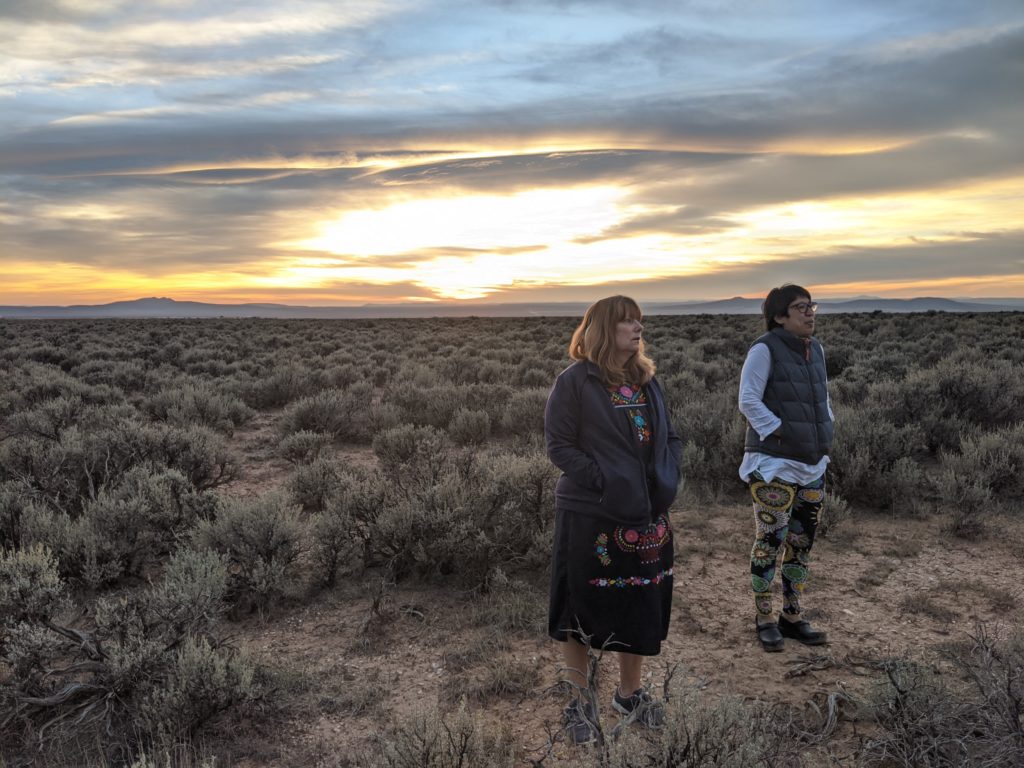 And I got a tumbleweed.
Per Laura's rec, we stopped at Slap's BBQ in Kansas City for lunch. This was our only true "foodie" stop. The only place where there was a line to place an order (even for lunch on a weekday). We ate a lot in our minivan. I downloaded about seven chain apps and I had gotten good at placing orders for pickup a new Paneras, Dairy Queens, etc about 20-30 miles down the road so we would just drive in a pick up.
We saw Seth in Columbia, Missouri. Jeremy enjoyed a bike ride with him.
We had a lovely homemade Thai curry in the backyard. It was great to see him!
And finally, we saw Paul in Columbus, OH. I forgot to get a photo! We had Indian food for dinner and met their crazy dogs. Columbus is only six hours from home, so the next day we were home in our garage and sent this photo to Vince.