We had a lovely dinner at home last night with Deb, one of Edda's favorite OTs. We started seeing Deb weekly when Edda was 3 or 4 and didn't stop until Deb retired about 5 years ago. (Vincie also went to Deb for about 3-4 months back when he was a 2nd or 3rd grader to correct some backwards letters in his handwriting and she helped tremendously which Vince did reminisce about during a phone call after dinner last night, but he said that while his handwriting is pretty good now, spelling was still a problem. I said spelling was outside the scope of Deb's practice.) Edda showed off her hand/fork self-feeding skills which are surprisingly good. We'd been worried about Edda's walking, but Deb says that Edda seems steadier somehow.
Jeremy is still training insanely for a bike race next week. He slightly rearranged the home gym over the last few days adding a 2nd remote-controlled fan to the setup.
My mid-day walk showed the crazy cicadas. These climbing on iris stalks.
Alice, Sofi and I ate (not cicadas), but berries off of a tree. I've lived by this tree for 12 summers and have never eaten anything from this tree. But now I will.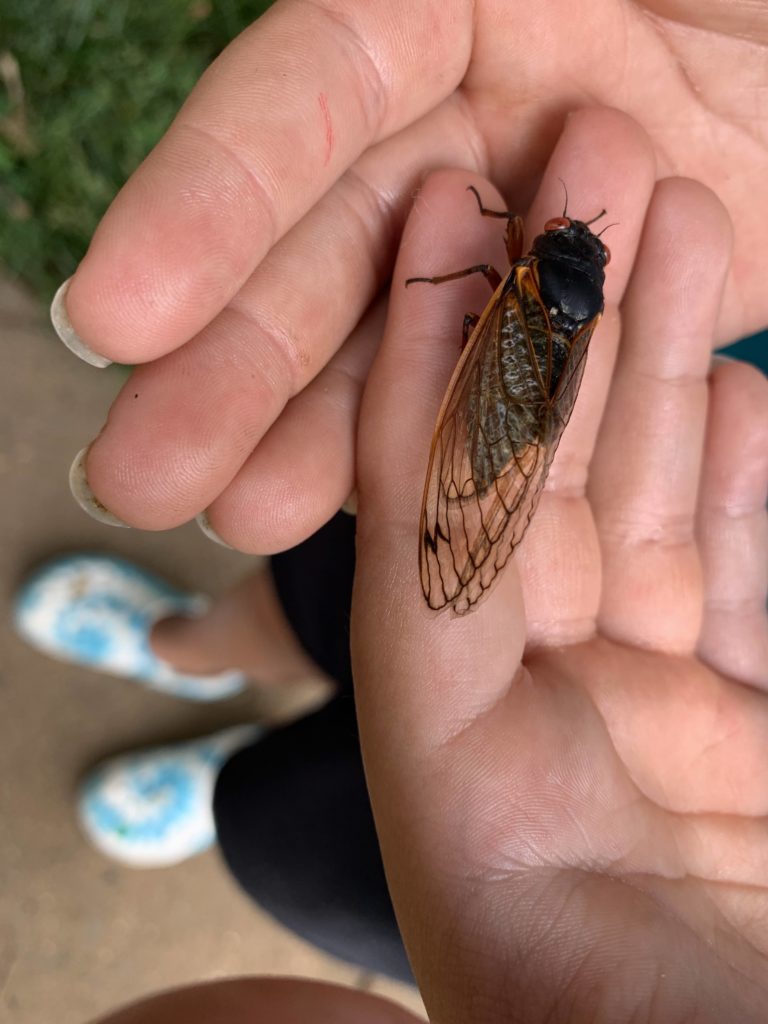 This is both a surprising and kind of sad update from Vince's college. Most of the alerts have been about Covid, but yesterday was about a bear. And then the bear got hit by a car and died. 🙁
I'm still feeling blue. I think it's mainly hormonal, but it's a drag. Sometimes I think I don't know how to have fun. It's OK, it's just a feeling. It will pass. Look at these amazing 90ish year old men from Japan breaking the world record in the M90-95 4×400 – splits are: 2:07 / 2:34 / 2:27 and (holy crap!) 1:40!!!!