I dropped my parents off at Dulles in the afternoon on Sunday. Usually Jeremy does this for me as I generally dislike driving, but Jeremy was in the middle of a six hour training ride, and so I dropped my parents off. We parked and I helped them check in and then gave them big hugs and sent them off to the west coast. They will be back in October. It's been nice having them close to me during the pandemic, I wouldn't have liked them to be on the west coast during the past two years. It's funny how I feel differently about Vince, I'm happy he's on the west coast. I miss him lots, but he's suppose to be out there, figuring it out. He's done with finals – now on spring break. He did not come home -we offered to host a trip to SF during the week for a night or two, but I think he's just going to catch up on sleep and cook nice meals for himself. He made dumplings and is now trying to ferment kombucha. He's not a natural student, I think if we really hone in (and I think he would agree) – he has a touch of dyslexia and ADHD, and that makes it hard for him, but it's also that somehow he has to grow into and learn how to study. Like he can't study with friends (even though it's his natural inclination), he has to make an enormous number of flash cards, he needs to spend more time than other people (though I think a lot of people who do well hide how much they work). But he did well this term, much better than last term and is feeling good.
We had a DC Martins birthday party dinner – celebrating Edda and Sarah's 18th birthdays. (And Bob's too – on zoom). Jeremy, again, made pancakes. All these years, I've never really been able to eat the pancakes at the birthday breakfast, I'm always talking and moving and hosting – never eating until 3 pm when everyone else has left and I have a cold pancake and some greasy bacon. This is the first year I've been able to eat a pancake straight off the griddle and it is the most delicious thing. Coated with syrup and butter and then tucking a sliver of bacon onto the fork with the bite of pancake is perfection. Jeremy makes buttermilk pancakes from the Joy of Cooking that I got for him as a wedding gift and the batter ages overnight.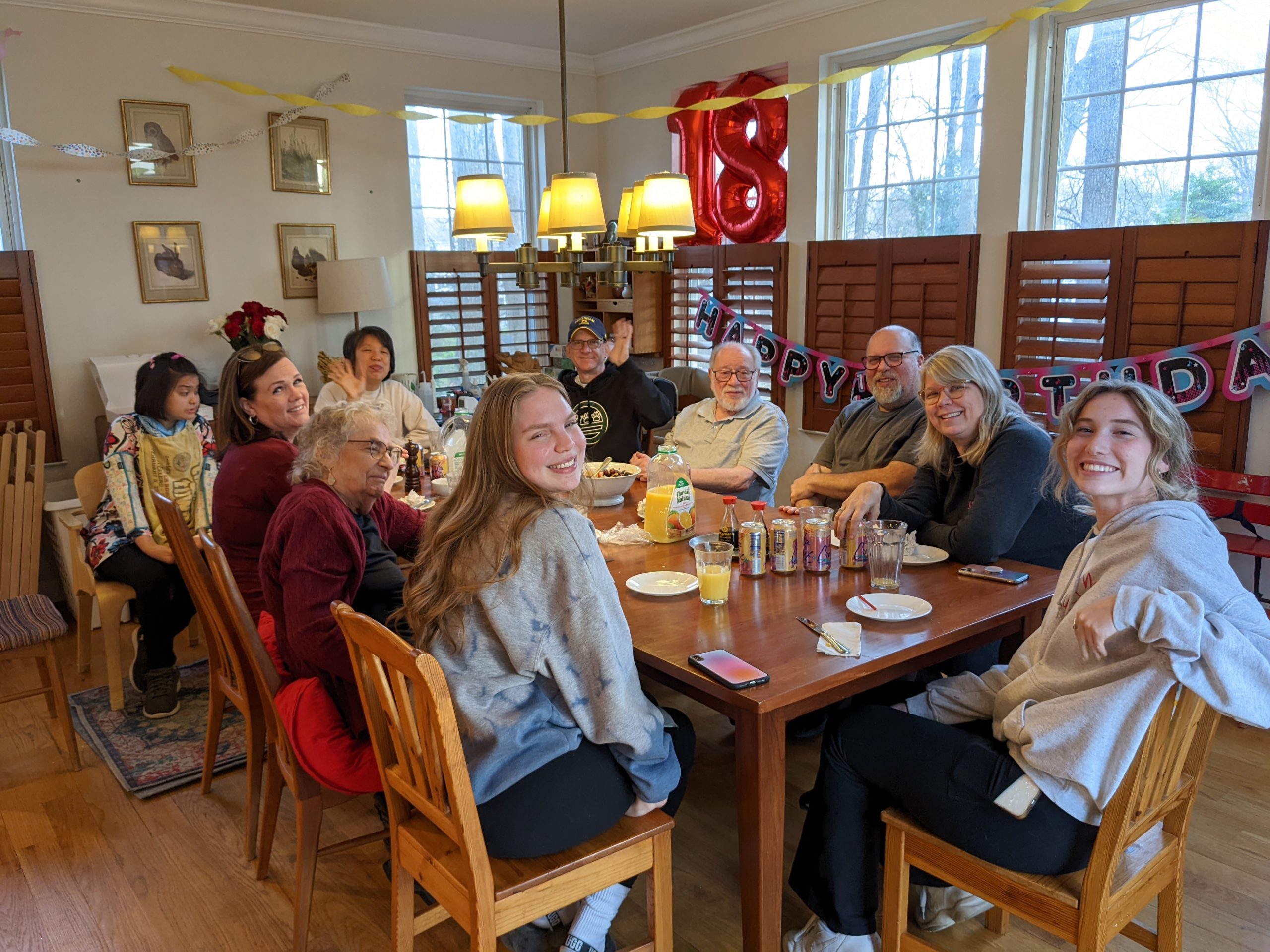 Last Christmas – the DC martins played secret santa and Vince was frantically trying to find a gift to participate. He was at Target and I texted him to buy the most expensive shampoo he could find. He found a bottle marked $30 (which was the limit of the gift exchange) and he texted a photo to me and said – I can't believe they sell shampoo for $30. I had never heard of the brand before, but I told him to buy it and that it was perfect. And it was! Sarah opened the gift and swooned. But it was later "stolen" by Jane and Jane got to keep and and bring it home. So for Sarah's birthday, Jane remembered that she stole Sarah's shampoo got her the same one, again. lol.