Ahhh, it was kind of a discouraging post that I left you with. Sorry! I had a very social weekend / beginning of the week which was just what I needed and I come to my desk this morning refreshed and ready to tackle all sorts of problems. kind of. haha. What helped me the most was 1) talking to Jeremy 2) talking to all my family and friends and taking the time to regroup and think. Thank you all, for listening to me.
Today marks the 27th anniversary of our first kiss. Jeremy is in Chicago now and I texted him the significance of today's date and that I'd do it all over again! So many times. 10,000 times. We are well suited to each other. A lifetime is not enough. I rely so much on Jeremy to calm me and regulate my making an emotional catastrophe of everything. I mean, I'm much better at doing it by myself now than I was when we met, but Jeremy steadies me and he wasn't at home when I got the email so I spiraled a bit. Once I steady myself, I'm usually OK with things. Like – now I'm ok with opening an adult day program if it comes down to it (I already know the space to rent) or I'm ok with Edda at home with me all the time while I work. That's OK too. I don't mean ok like I want to do it or that it's the best thing to do or that it's the best outcome – ok means – I understand this is the situation I'm in and I can work with it. And I'll be ok, I won't collapse into a pile of tears.
Jeremy left for a bike race on Friday/Saturday, so I hosted Megan's b-day party on Friday night and then on Saturday, I took Elka to dog training. And Edda too.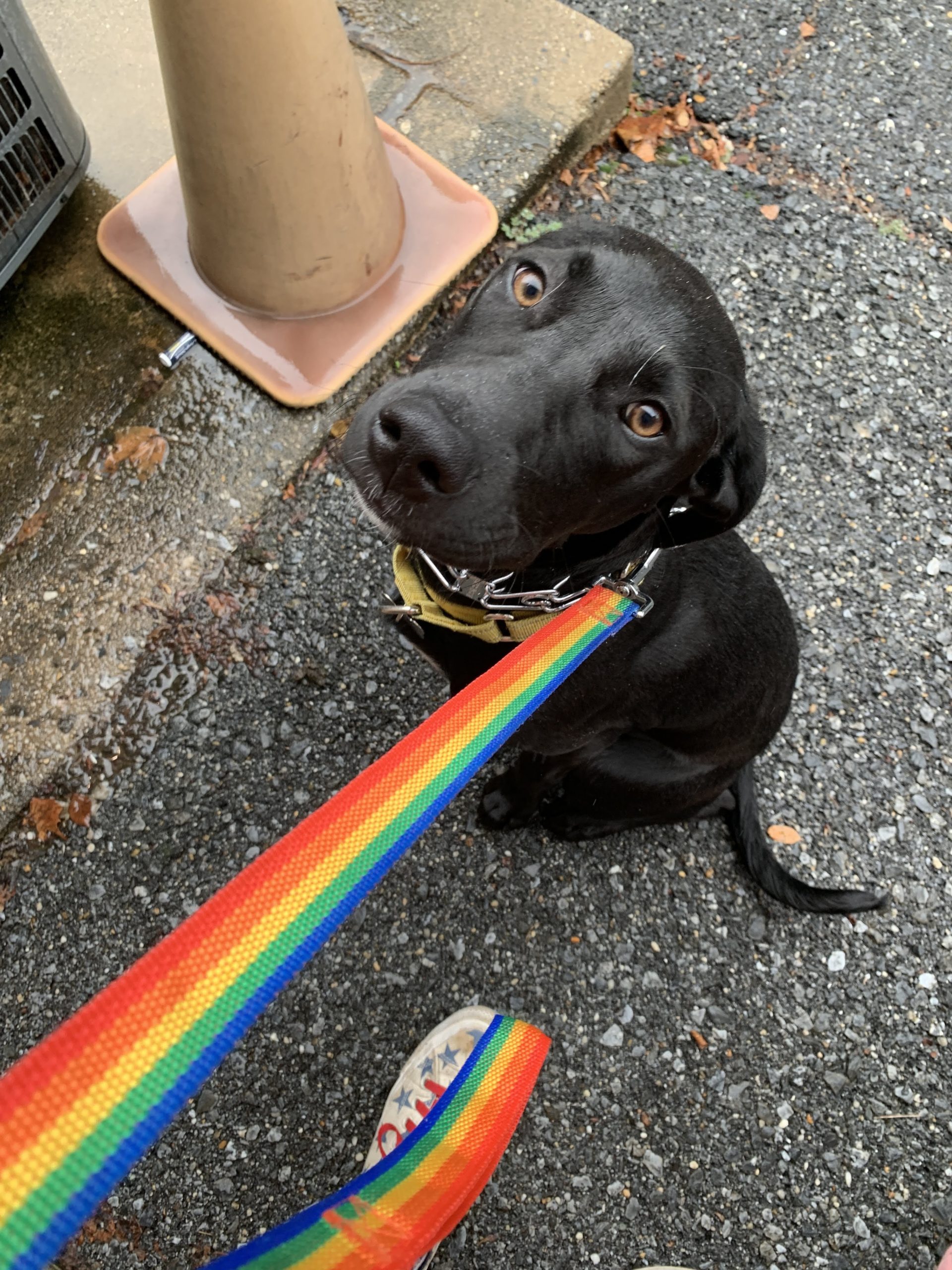 You know, it's just fine taking Edda to places. Jeremy is often bike racing on the weekends, so I've taken Edda to dog training a few weeks in a row now. And it's fine. In my head, I can kind of build it up to more than it is. She watches the dogs, she naps & watches TV on an iPad and is generally content. The staff at the training help with adjusting her mask and open the garage door before we ask now for a smooth roll into the facility. The dogs get exposed to people in wheel chairs. One dog in particular, was agitated when the training took him around to Edda's spot, but after 4 weeks, there is just calmness. Now I know that dog will be fine with other people in wheelchairs.
On Saturday night, I hosted take out dinner in my garage for the usual suspects. They were kind and accommodated having Edda in attendance because Jeremy was still out of town. Usually we go out to dinner, but it was fun a relaxing in our garage. I would have had it out on the deck, but it was kind of raining and I didn't want anyone to get wet while still having good covid mitigation measures. (no photos! I took no photos anywhere.)
Sunday, I drove to Brooklyn to see my friend Lael on Monday (no photos either!). I don't like driving, but the public transit options took too much time and lacked flexibility, unfortunately. I felt I was tight on time going back home. I needed to be home by Tuesday camp pick up because Jeremy was flying out at noon on Tuesday, I'd rather stress the actual driving than stress missing camp pickup.
I lucked out and had gorgeous weather the whole time I was there. I had a great time with Lael on Monday (2 meals + lots of walking + ice cream), but I also got to spend a good chunk of time by myself. Running across the Willamsburg bridge on Monday (6 miles) and 10 miles on Tuesday morning where I ran from my hotel to Prospect Park. I'm learning the type of trips I enjoy. I dislike sightseeing trips, I don't like seeing tourist attractions. I love visiting friends. I like exploring neighborhoods on foot and running allows me to do that (I surprisingly went through the Hasidic Jewish neighborhood for at least 2 miles where I felt very underdressed. At least I had a shirt on, I generally run outside with only a bra in the summer.). I enjoy eating foodie foods when I'm with other people, but when I'm by myself, I'm content to find a grocery store and grab something quick and cheap without needing to tip.
And now I'm home. And we go back to the task at hand. Yesterday, I picked up Edda from camp, we had frozen chicken sandwiches for dinner with Isabella. And we went to bed and woke up today.