I needlessly worried about Jeremy's work Christmas party. A good number of folks showed up despite the cold and the rain and I had very nice time. We had a nice charcuterie board with fancy cheeses/olives and cured meats. Jeremy wore his festive Christmas outfit. He thinks his green tie is out of style now – the fabric too thick resulting in a large knot while the fashion may be now to thinner ties.
I wore something completely out of style – a plaid Christmas dress and striped Christmas leggings. Next year, I'll get the felted elf shoes with the curly toes.
We had no Edda-care arranged for this party, so Jeremy and I traded Edda duties and hosting duties. Vince was upstairs sleeping off a cold (he's still sick, it's been lingering for a while) with a 30 second appearance to make himself a ham sandwich and scope out the drink offerings.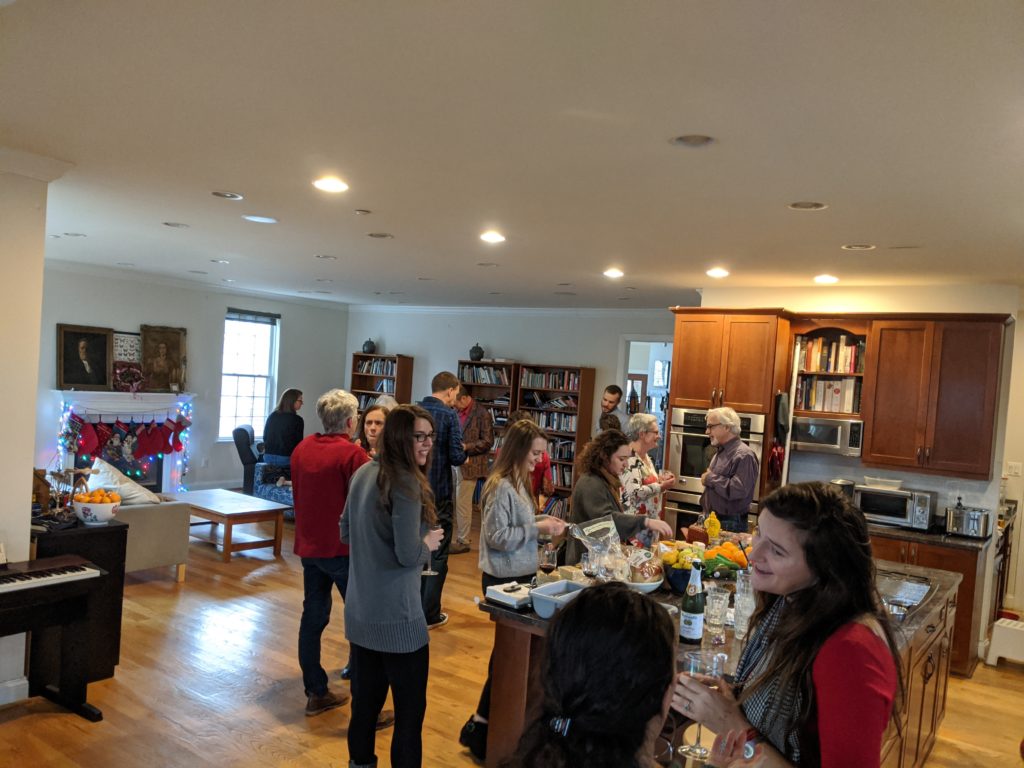 This is our kind of party – an afternoon party, low on the drinking, high on the cookie decorating and a number of toddlers running around. After the party, we were suppose to go to another holiday party, but we were both exhausted. I don't understand how I get tired so easily these days. It's like I'm almost 50 or something.
On Monday, I went to hospital for a shift. When I left at 5:45 am, it was snowing lightly outside and schools were on a two hour delay. I checked with Jeremy that he could manage to get Edda on the bus and I headed to work. I shoved my purse with my phone into my work locker at 6:30 am and then proceeded to work all day until I got on the shuttle bus at 8 pm when I found out that school had been cancelled all day! I didn't know it was a snow day until it was almost bedtime. That was weird.
Vince told me last night that I was 15% annoying. Jeremy was 98% not annoying. I asked if I was less annoying than Maxi. He said I was for sure less annoying than Maxi because Maxi often noses into Vince's room while he is snoozing in bed and is sniffing around trying to find a good spot to pee on the carpet and Vince is like – Max! don't pee on the carpet please, I'm right here next to you. At least you could have the decency to pee on the carpet when I'm not in the room. I guess I'm less annoying because I usually don't pee on his stuff. That's good.